Adipose tissue Cross-Talk wIth Vascular function (ACTIV)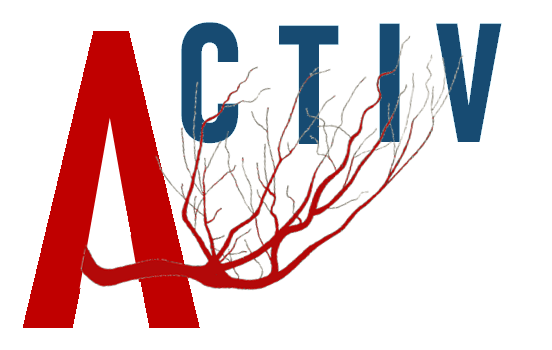 Researchers involved in the Group:
Permanent Researchers

Agnès VINET (PhD, PU)

Sophie ANTOINE (PhD, MCU-HDR)

Catherine RIVA (PhD, MCU- HDR)

Guillaume WALTHER (PhD, MCU-HDR)

Yannick KNAPP (PhD, MCU)



Sandrine GAYRARD (Tech. 30%)
Céline PORTAL (Assist. Tech. 30%)

Non-permanent researchers

Cécile REYNES (PhD Student)


Alexandra MARZIOU (PhD Student)

Thomas BRENIERE (PhD Student)

Sylvain BATTAULT (Post-Doc, PhD)
Objectives / Research interests:
Alterations in micro and macro-circulation as well as adipose tissue dysfunction have been described in patients with metabolic disorders and cardiovascular diseases. While blood circulation and adipose tissue plays a fundamental role in the modulation and selection of nutrients essential to endothelial function, adipocytes secrete adipokines and other molecules regulating vascular function. Thus, we address to study the reciprocal interaction linking adipose tissue to the endothelium and the vascular function. We investigate adipose tissue released factors that affect vascular function and vice versa. Moreover, metabolic disorders and cardiovascular disease are associated with adipose tissue hypovascularisation which impairs their vascular health. In this context, we examine whether physical activity and/or nutrition modulate this cross-talk between vascular function and adipose tissue.
Using a translational research approach with interconnected studies in both rodents and humans we aim at achieving the following objectives:
– to understand the relationships between micro- and macrocirculation and the role forperivascular adipose tissue in obesity-related vascular disorders.
– to decipher the mechanisms involving angiogenesis, adipose tissue and inflammation affecting vascular remodeling and function.
– to develop innovative methodologies and data processing to better image and understand vascular function in vivo.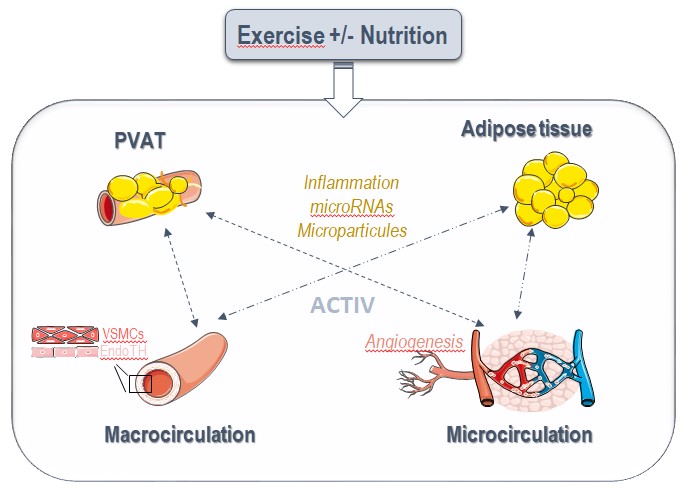 Methods and materials:
For studies in human
– Vessel morphology and function in-vivo (Ultrasound Doppler for vessel scanning, MyLab, Easote and Vivid Q, 3A Platform) assessed both at rest and during exercise
 – Microcirculation function in vivo (Laser Contrast Doppler Imaging and Laser Doppler Flowmetry, Perimed, 3A Platform) assessed both at rest and during exercise
– Flowmotion (Laser Doppler Flowmetry, Perimed)
– Metabolic and cardiovascular risk factors (blood samples, blood pressure, body composition)
– Infrared Thermography
For experimental studies
– Biochemical assays (western blot, Elisa, proteins activity)- Histology
– Cell culture (stroma vascular cells, smooth muscle cells and endothelial cells)
Scientific Collaborations:
National
– Caractéristiques féminines des dysfonctions des interfaces vasculaires, Nîmes, A Perez-Martin
– C2VN UMR INSERM, INRA, AMU Marseille, JF Landrier, B Gaborit, A Dutour
– CNRS, LaPSCo, Physiological and Psychosocial Stress, F, Dutheil
– HP2 INSERM, CHU Grenoble, CIC, Université de Grenoble, M Roustit, JL Cracowski, AL Borel, C Arvieux.
– CNRS LBTI, Université de Lyon, D Sigaudo-Roussel.
– INRA CNRS CSGA, Université de Dijon, C Leloup, L Briand.
– INSERM Phymedexp, Université de Montpellier, P. de Santa Barbara.  
– INRA Unité PSH (UR 1115), Avignon, Lab. Plantes et Systèmes de culture Horticoles Equipe : Ecophysiologie des Plantes Horticoles, N Bertin, AL Franciullino
– EFS Biologie et pharmacologie des plaquettes sanguines : hémostase, thrombose, transfusion
–– 'ACTES': Adaptation, Climat Tropical, Exercice et Santé, Université des Antilles, O Hue
–  UMR Inserm S1134 'Biologie Intégrée du Globule Rouge », Université des Antilles, M Romana
International
– Nutrition/Institute of Bioengineering, University of Elche, Spain (E Roche, V Micol)
– School of Exercise Science et Mary MacKillop Institute for Health Research, Australian Catholic University, Melbourne, Australie (S. Stuart, C. Lorenzen)
Financial supports:
Avignon Université, SFR Tersys, AFERO, GCTechnology, CHU Nîmes, Région PACA, Vita Api Laboratoire, FFRD, ANR. 
Publications: 
Reynes C, Vinet A, Maltinti O, Knapp Y. Minimizing the duration of laser Doppler flowmetry recordings while maintaining Wavelet Analysis quality: A methodological study. Microvasc Re 2020 sept ; 131 : 104034.
Loustau T, Coudiere E, Karkeni E, Landrier JF, Jover B, Riva C. Murine double minute-2 mediates exercise-induced angiogenesis in adipose tissue of diet-induced obese mice. Microvasc Res. 2020 Jul;130:104003.
Marziou A, Philouze C, Couturier C, Astier J, Obert P, Landrier JF*, Riva C*. Vitamin D Supplementation Improves Adipose Tissue Inflammation and Reduces Hepatic Steatosis in Obese C57BL/6J Mice.  Nutrients. 2020 Jan 28;12(2):342.
Meziat, D. Boulghobra, E. Strock, S. Battault, I. Bornard, G. Walther* C. Reboul*. Exercise training restores eNOS activation in the perivascular adipose tissue of obese rats: impact on vascular function. Nitric Oxide. 2019 Mar 2;86:63-67.
Vinet A, Obert P, Courteix D, Chapier R, Lesourd B, Verney J, Dutheil F, Walther G. Different modalities of exercise improve macrovascular function but not microvascular function in metabolic syndrome: The RESOLVE randomized trial. Int J Cardiol. 2018 Sep 15;267:165-170.
Dimassi S, Karkeni E, Laurant P, Tabka Z, Landrier JF, Riva C. Microparticle miRNAs as Biomarkers of Vascular Function and Inflammation Response to Aerobic Exercise in Obesity? Obesity (Silver Spring). 2018 Oct;26(10):1584-1593.
J. Peyrol, G. Meyer, P. Obert, O. Dangles, L. Pechere, MJ. Amiot-Carlin, C. Riva. Involvement of bilitranslocase and beta-glucuronidase in the vascular protection by hydroxytyrosol and its glucuronide metabolites in oxidative stress conditions, J. Nutr. Bioch. 2018, 51, 8-15
J. Loader, C. Meziat, R. Watts, C. Lorenzen, D. Sigaudo-Roussel, S. Stewart, C. Reboul, G. Meyer, G. Walther. Effects of Sugar-Sweetened Beverage Consumption on Microvascular and Macrovascular Function in a Healthy Population. Arterioscler Thromb Vasc Biol. 2017 Jun;37(6):1250-1260.
J. Loader, M. Roustit, F. Taylor, RJ. MacIsaac, S. Stewart, C. Lorenzen, G. Walther. Assessing cutaneous microvascular function with iontophoresis: Avoiding non-specific vasodilation. Microvasc Res. 2017 Sep;113:29-39.
Review articles:
J. Loader, C. Khouri, G. Walther, M. Roustit. The continuums of impairment in vascular reactivity across the spectrum of cardiometabolic health: a systematic review and network meta-analysis. Obesity Reviews. Obes Rev. 2019 Jun;20(6):906-920.
Risdon S, Battault S, Romo-Romo A, Roustit M, Briand L, Meyer G, Almeda-Valdes P, Walther G. Sucralose and Cardiometabolic Health: Current Understanding from Receptors to Clinical Investigations. Adv Nutr. 2021 Feb 12:nmaa185
Patent:
Y Knapp. Demande de brevet n° 1911303. Système pour la libération de plaquettes et procédé de libération de plaquettes/system for platelet release and process for platelet release
H. Oréal, C. Riva. Intégration de molécules bioactives dans des micro-algues séléniées. Brevet d'invention FR2993456 –publié le 24/01/2014