Adiose tissue Cross-Talk wIth Vascular function (ACTIV)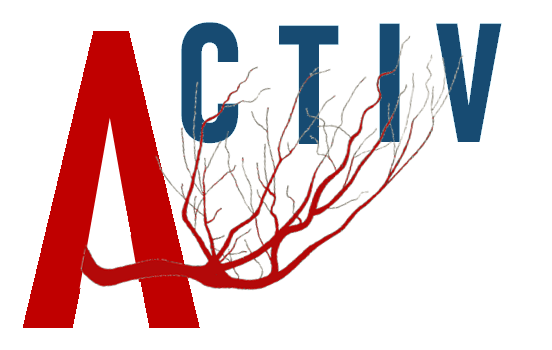 Researchers involved in the Group:
Permanent Researchers

Agnès VINET (PhD, PU)

Sophie ANTOINE (PhD, MCU-HDR)

Catherine RIVA (PhD, MCU- HDR)

Guillaume WALTHER (PhD, MCU-HDR)

Yannick KNAPP (PhD, MCU)



Sandrine GAYRARD (Tech. 30%)
Céline PORTAL (Assist. Tech. 30%)

Non-permanent researchers

Cécile REYNES (PhD Student)


Alexandra MARZIOU (PhD Student)

Thomas BRENIERE (PhD Student)

Sylvain BATTAULT (Post-Doc, PhD)
Objectives / Research interests:
Alterations in micro and macro-circulation as well as adipose tissue dysfunction have been described in patients with metabolic disorders and cardiovascular diseases. While blood circulation and adipose tissue plays a fundamental role in the modulation and selection of nutrients essential to endothelial function, adipocytes secrete adipokines and other molecules regulating vascular function. Thus, we address to study the reciprocal interaction linking adipose tissue to the endothelium and the vascular function. We investigate adipose tissue released factors that affect vascular function and vice versa. Moreover, metabolic disorders and cardiovascular disease are associated with adipose tissue hypovascularisation which impairs their vascular health. In this context, we examine whether physical activity and/or nutrition modulate this cross-talk between vascular function and adipose tissue.
Using a translational research approach with interconnected studies in both rodents and humans we aim at achieving the following objectives:
– to understand the relationships between micro- and macrocirculation and the role forperivascular adipose tissue in obesity-related vascular disorders.
– to decipher the mechanisms involving angiogenesis, adipose tissue and inflammation affecting vascular remodeling and function.
– to develop innovative methodologies and data processing to better image and understand vascular function in vivo.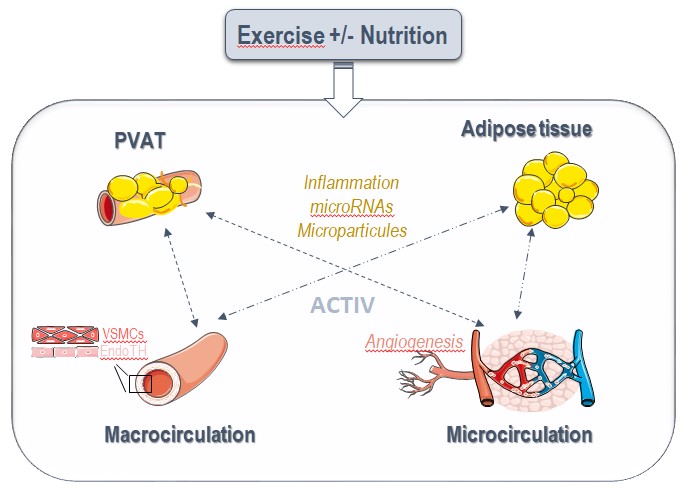 Publications: 
Reynes C, Vinet A, Maltinti O, Knapp Y. Minimizing the duration of laser Doppler flowmetry recordings while maintaining Wavelet Analysis quality: A methodological study. Microvasc Re 2020 sept ; 131 : 104034.
Loustau T, Coudiere E, Karkeni E, Landrier JF, Jover B, Riva C. Murine double minute-2 mediates exercise-induced angiogenesis in adipose tissue of diet-induced obese mice. Microvasc Res. 2020 Jul;130:104003.
Marziou A, Philouze C, Couturier C, Astier J, Obert P, Landrier JF*, Riva C*. Vitamin D Supplementation Improves Adipose Tissue Inflammation and Reduces Hepatic Steatosis in Obese C57BL/6J Mice.  Nutrients. 2020 Jan 28;12(2):342.
Meziat, D. Boulghobra, E. Strock, S. Battault, I. Bornard, G. Walther* C. Reboul*. Exercise training restores eNOS activation in the perivascular adipose tissue of obese rats: impact on vascular function. Nitric Oxide. 2019 Mar 2;86:63-67.
Vinet A, Obert P, Courteix D, Chapier R, Lesourd B, Verney J, Dutheil F, Walther G. Different modalities of exercise improve macrovascular function but not microvascular function in metabolic syndrome: The RESOLVE randomized trial. Int J Cardiol. 2018 Sep 15;267:165-170.
Dimassi S, Karkeni E, Laurant P, Tabka Z, Landrier JF, Riva C. Microparticle miRNAs as Biomarkers of Vascular Function and Inflammation Response to Aerobic Exercise in Obesity? Obesity (Silver Spring). 2018 Oct;26(10):1584-1593.